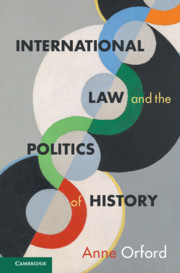 Book abstract:
As the future of international law has become a growing site of struggle within and between powerful states, debates over the history of international law have become increasingly heated. International Law and the Politics of History explores the ideological, political, and material stakes of apparently technical disputes over how the legal past should be studied and understood. Drawing on a deep knowledge of the history, theory, and practice of international law, Anne Orford argues that there can be no impartial accounts of international law's past and its relation to empire and capitalism. Rather than looking to history in a doomed attempt to find a new ground for formalist interpretations of what past legal texts really mean or what international regimes are really for, she urges lawyers and historians to embrace the creative role they play in making rather than finding the meaning of international law.
Table of contents:
1 - Neoformalism and the Turn to History in International Law
2 - Situating the Turn to History in International Law
3 - History and the Turn to the International 3 - History and the Turn to the International
4 - History's Lawyers
5 - The Past in the Practice of International Law
6 - The History of What?
7 - Why Study the Past of International Law? History as Politics
Read more on Cambridge Core (DOI
10.1017/9781108691765
).