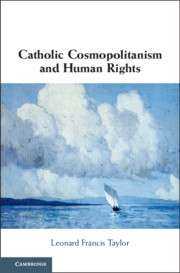 Cambridge University Press is publishing a new book on catholic cosmopolitanism and human rights.
ABOUT THE BOOK
It is because Catholicism played such a formative role in the construction of Western legal culture that it is the focal point of this enquiry. The account of international law from its origin in the treaties of Westphalia, and located in the writing of the Grotian tradition, had lost contact with another cosmopolitan history of international law that reappeared with the growth of the early twentieth century human rights movement. The beginnings of the human rights movement, grounded in democratic sovereign power, returned to that moral vocabulary to promote the further growth of international order in the twentieth century. In recognising this technique of periodically returning to Western cosmopolitan legal culture, this book endeavours to provide a more complete account of the human rights project that factors in the contribution that cosmopolitan Catholicism made to a general theory of sovereignty, international law and human rights.
ABOUT THE AUTHOR
Leonard Francis Taylor, National University of Ireland, Galway
Leonard Taylor is a graduate of the Irish Centre for Human Rights in National University of Ireland, Galway, where he lectures in human rights law. He is also an assistant lecturer at the Institute of Technology, Sligo.
TABLE OF CONTENTS
Introduction
1. Catholic cosmopolitan and the birth of human rights
2. Catholic cosmopolitanism from the centre to the periphery
3. Catholic cosmopolitanism from the periphery to international concern
4. Locating a modern Christian cosmopolitanism
5. An imperfect cosmopolitan project
Conclusion.