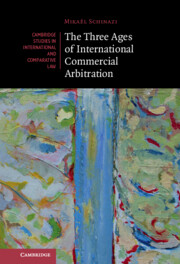 Book description:
Drawing on a wide range of previously unpublished sources, this unique history of international commercial arbitration in the modern era identifies three periods in its development: the Age of Aspirations (c. 1780–1920), the Age of Institutionalization (1920s–1950s), and the Age of Autonomy (1950s–present). Mikaël Schinazi analyzes the key features of each period, arguing that the history of international commercial arbitration has oscillated between moments of renewal and anxiety. During periods of renewal, new approaches, instruments, and institutions were developed to carry international commercial arbitration forward. These developments were then reined in during periods of anxiety, for fear that international arbitration might be overstepping its bounds. The resulting tension between renewal and anxiety is a key thread running through the evolution of international commercial arbitration. This book fills a key gap in the scholarship for anyone interested in the fields of international arbitration, legal history, and international law.
On the author:
Mikaël Schinazi is an international dispute resolution lawyer and a visiting lecturer at Sciences Po Law School, Paris. A member of the New York Bar, he holds a BA magna cum laude with highest honours from Harvard University, an LLB from the University of Cambridge (John Eliot Scholar), an LLM from Columbia Law School (Harlan Fiske Stone Scholar), and a PhD in law from the Institut d'Études Politiques de Paris (Sciences Po).
Read more with the publisher.
(Adopted from: ESCLH website)