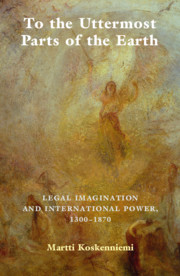 (image source:
CUP
)
Book presentation:
To the Uttermost Parts of the Earth shows the vital role played by legal imagination in the formation of the international order during 1300–1870. It discusses how European statehood arose during early modernity as a locally specific combination of ideas about sovereign power and property rights, and how those ideas expanded to structure the formation of European empires and consolidate modern international relations. By connecting the development of legal thinking with the history of political thought and by showing the gradual rise of economic analysis into predominance, the author argues that legal ideas from different European legal systems - Spanish, French, English and German - have played a prominent role in the history of global power. This history has emerged in imaginative ways to combine public and private power, sovereignty and property. The book will appeal to readers crossing conventional limits between international law, international relations, history of political thought, jurisprudence and legal history.
On the author:
Martti Koskenniemi is Professor of International Law at the University of Helsinki. His works on the theory and history of international law are studied by lawyers, historians and international relations scholars across the world. He has held visiting professorships at many leading universities and he is Corresponding Fellow of the British Academy and a Member of the American Academy of Arts and Sciences.
More information with CUP.