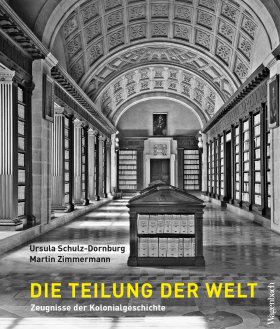 Book abstract:
In einer eindrucksvollen Serie hat Ursula Schulz-Dornburg das monumentale Archiv der spanischen Kolonialmacht in Sevilla dokumentiert – Bilder, die ahnen lassen, was die Regale beherbergen: Geschichten von Entdeckungsreisen, von der Hybris der Herrschenden und folgenreiche Schriftstücke. Die Papiere scheinen sich zu rühren. Die Pappen sind schief, leicht geknickt, als habe sie jemand mit kindlicher Neugier hochgebogen, um ihnen ihre Geheimnisse zu entlocken. Sie bergen zahllose Schicksale, wissen von verschwundenen Sprachen, von Gier nach Gold und den Träumen von einer »Neuen Welt«: ein papiernes Monument der Macht in Schränken aus kubanischem Zedernholz, lichtdurchfluteten Marmorsälen, atemberaubender Architektur. Ursula Schulz-Dornburgs bisher unveröffentlichte, historisch einmalige Fotografien zeigen das Archivo General de Indias in Sevilla vor seiner Sanierung. Seit 1785 sind hier 300 Jahre spanische Kolonialgeschichte in Amerika archiviert, 8.000 Karten, rund 90 Millionen Dokumente – darunter beispielsweise das Bordbuch des Kolumbus sowie der berühmte »Vertrag von Tordesillas«: 1494 zeichneten die Könige von Portugal und Spanien, vermittelt vom Papst, eine Linie durch den Atlantik und teilten die neu entdeckten und noch zu entdeckenden Länder der Welt unter sich auf. Der Historiker Martin Zimmermann unternimmt eine Reise ins Zeitalter der »Entdecker« und erzählt von gefährlichen Überfahrten, der Begegnung mit dem Fremden, kolonialer Gewalt, der Macht der Kartografie – und vom unstillbaren Wunsch, sich die ganze Welt zu erschließen.
On the authors:
Ursula Schulz-Dornburg gehört zu den international renommiertesten deutschen Fotografinnen. In ihren Arbeiten erkundet sie Orte am Rande der westlichen Wahrnehmung und menschengemachte Grenzregionen, zuletzt in ihrer Ausstellung »The Land in Between« im Frankfurter Städel. Sie lebt in Düsseldorf.

Martin Zimmermann ist Professor für Alte Geschichte an der LMU München. Zuletzt erschienen von ihm »Gewalt. Die dunkle Seite der Antike« sowie »Die seltsamsten Orte der Antike«.
This book has been reviewed by Prof. Miloš Vec (Vienna) in the Frankfurter Allgemeine Zeitung of 21 June 2021.
Read more on the publisher's website.